Dubois County (NNDC):
The Jasper Street Department announces additional paving work. 
The Jasper Street Dept. announced the next set of milling/paving beginning Thursday, Sept. 20 afternoon & continue throughout the week into the following week. (Sept. 20 thru
Sept. 28).
The following streets are scheduled:
–   100 S
–   W 13th from Newton St to Bartley St
–   25th St from Mill St of Cathy Ln
–   Terry Ln from 25th St to Cathy Ln
The above streets are scheduled for Milling on Thurs & Friday of this
week.
Paving will follow beginning on Monday, Sept. 24 continuing through the week to completion.
–  Terry Ln
– 25th St
– W 13th St
– 100 S
Motorists will be allowed on these streets, however there will be
delays.
This schedule will proceed barring inclement weather or any other
unforeseen events, at which time it will be rescheduled.
Huntingburg Police arrest man for Battery a level 6 Felony.
Huntingburg Police responded to a domestic dispute around 12:20 AM Sept. 17th.  While speaking with the victim as well as 2 children living in the home, Felix Lazaro was taken into custody for domestic battery.
The victim had minor injuries but refused medical treatment.
French Lick Resort Plans Expansion: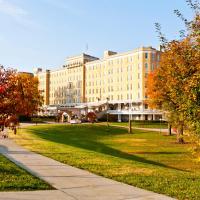 A 54,000-square-foot addition to the French Lick Resort will be located near the resort's event center and casino.  In total, a roughly $17 million project, adding over 50 guest rooms and a new sports bar.
The six-story guest-room addition is slated for completion in the fall of next year, and the first part of the project is already underway.
Chuck Franz, vice president of Cook Group, the resort's parent company says the new addition will allow them to attract more business groups and free up more rooms for leisure and casino guests.
Krempp Construction of Jasper was awarded the construction contract.
Company officials expect to hire more than 100 people.
Please check back for new stories and updates.